Hey Readers! I thought of writing an article about a different topic this time. Honestly, I wasn't really interested in reading books a year and a half earlier. Then I was lucky to listen to a great speech which was done by our President of Moratuwa Toastmasters TM Sachini Samarasekara on Oct 26, 2019 which changed the way I thought about the habit of reading. She's a contest winner in both club and division level and I'm really thankful for her even today for that amazing speech. So after a one year of reading experience and having built an habit of reading I thought to share my experience and the importance of reading with you. As I'm from an engineering background it's the mediocrity to hate reading. Only a few of my friends read printed books now. It has converted to something old school.
But does it mean that it doesn't worth doing now in 2021?
There are lots of alternatives to reading books these days that are more convenient and efficient. I always used to watch YouTube videos whenever I wanted to learn something new. There are not only Podcasts to listen for the people who don't like to read but also the Audiobook version of books where a narrator reads the books so that we can listen to them while doing something else. Having these easier options makes it even harder for someone like to me to even think of reading. This might be one of the reasons why most of people don't like to read much these days.
What made me to start reading?
Starting from my grade 5 scholarship exam, I wasn't interested in writing or reading. My mother always reminds me how she writes the answers when I say on test papers to prepare for scholarship exam just because I was bored to write. In my secondary school I remember reading a few books of Roald Dahl's book series and some local kids magazines. But from O/L onwards I didn't read newspapers much or read books from the library. I have some of friends who share their experiences of how they would visit the library and read every single book they can get hands on. That always seemed like a super power to me.
I always thought if I can get good grades without having a reading habit then it would justify me for not reading. This is the poor mindset that most of us have these days. It's similar to a person who thinks that, even how unhealthy he or she eats still he or she doesn't put on weight or to a person who thinks that he can work efficiently at night having the lowest energy level in the whole day when most of YouTube videos suggest you to wake up at 4.30am!
But we fail to realise that if we can keep up to a standard without using the necessary skillset/ attitudes, then how much more we can achieve if we develop and inculcate those skills!
Sometimes it's not about the action; reading, meditation and etc but the perspective of how we see it and also external things we do can affect our feelings about that particular action.
Here is what actually helped me to transform my perspective on reading. I got to know about something called digital dementia and dopamine stimulation. Let me explain about these two effects and it's downsides on us.
Digital Dementia is a modern day health epidemic resulting in a sensory mismatch in the brain from over utilisation of technology and excessive slouched sitting posture.
This may build stress, anxiety and even depression. I am a person who really loves technology so I spend most part of my day with either my MacBook, my iPhone or my iPad. Understanding of Digital Dimentia made me realise that I need more screen-off time. Therefore, I wanted to build some habit to get my eyes off my screen.
Next, the most scariest thing was to learn about this spooky thing in our brain called "Dopamine". Dopamine is a neurotransmitter produced in the brain which acts as a chemical messenger. It releases when you do an activity that is pleasurable or brings rewards. The more anticipation that builds up, higher are the odds of dopamine being raised. Hence, this causes your brain to put in more focus on the pleasurable activity. There is a reason why our brain can become so dependent on dopamine. Once it develops tolerance, it requires more and more dopamine, and normal tasks become difficult to complete.
Studies have shown that having intensive amount of time with digital devices can provide high dopamine levels and the more we spend the more tolerant we become. There's a method called "Dopamine Detox" which is kind of like food fasting that we do in blood testing. This is a vast topic that needs a separate article.
These two things made me realise it's actually not me who dislikes reading, but the actions I do has given me the feeling to hate reading. That means,
if I can control the external factors that keeps my reading habit away, then I can probably develop the habit of reading.
This was an interesting discovery that made me want to develop a habit of reading.
My Journey so far...
It was not an easy task for me to be honest. I planted the seed with an eBook first which is the first book of most of the readers. That is "Rich Dad Poor Dad" by Robert Kiyosaki. I started by reading 5 minutes a day which actually seemed like a very small task. But then the university semester 4 exams came and I had to focus on my exams. Only after the exams I was able to complete the first book after spending 5 months!!! I know it will definitely be more easier for you than me to take this first step. Then I shifted from eBooks to read printed books to make more screen away time. From that point onwards, I kept a target to read 12 books in 2020. When I stepped into 2021 I was glad that I was already reading my 13th book. I'm more interested in reading self-help books, books on leadership and entrepreneurship because I need these knowledge for my startup work in CircuitBreakers Robotics and iXD Labs as the CEO. From all the books I have read so far my favourite 3 books would be "7 habits of highly effective people" by Stephen Covey which was a gift that my Father received in his career, "The Alchemist" by Paulo Coelho which talks about having faith and following your dreams and at last but not the least in third is "The monk who sold his Ferrari" by Robin Sharma.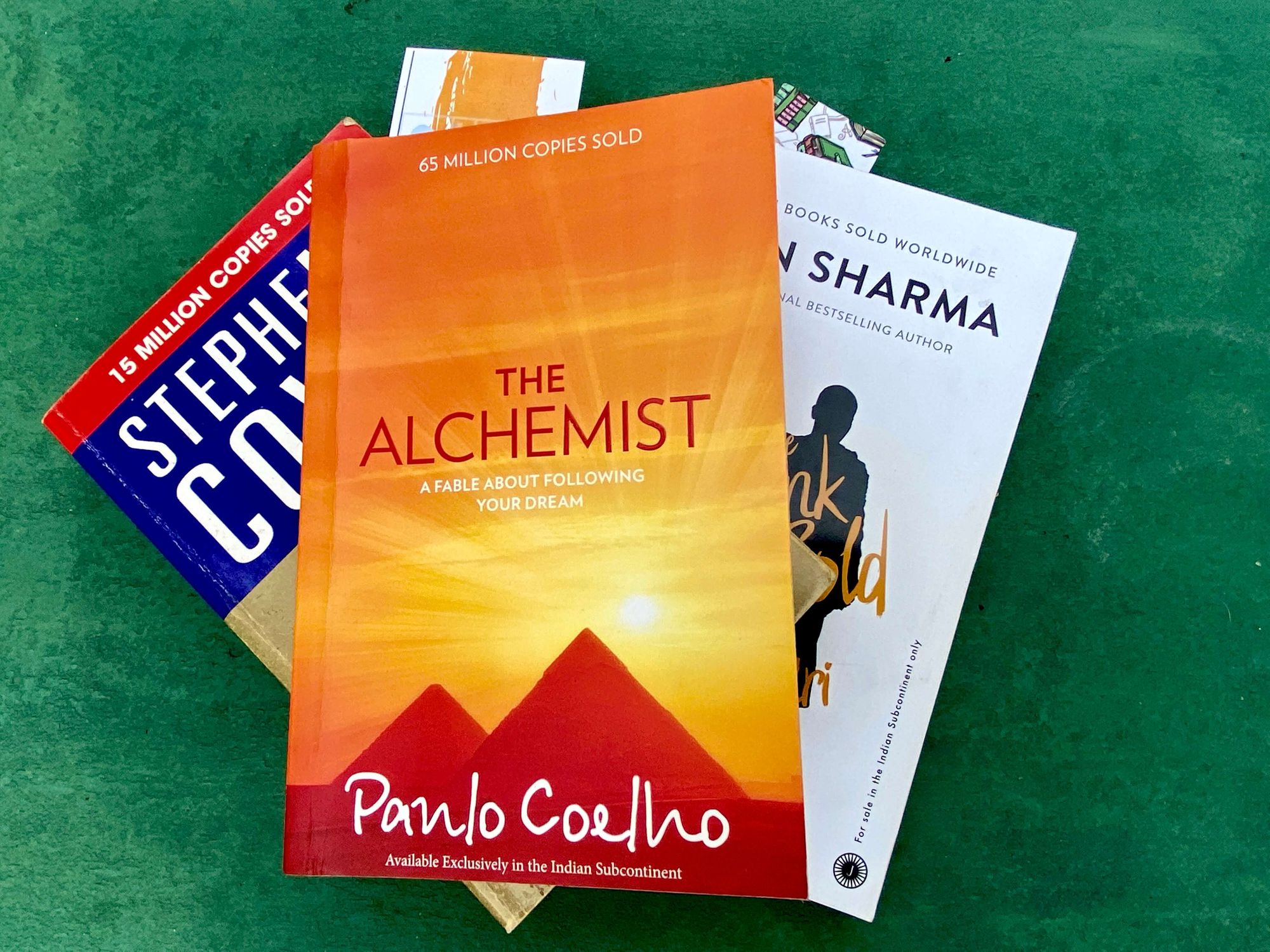 What's in it for me and for you?
One of the amazing facts is that when I start to read some sort of book it has elevated my life into whole new levels that I couldn't able to reach before. What I felt amazing was when I read a book I see some aspect in my life that I can apply the teachings and can see the results in-front of my eyes. Also reading is an exercise for your brain which strengthens the neural pathways and the ability to concentrate. In the "7 habit of highly effective people", Stephen Covey introduces Sharpening the saw as the final habit. Reading books as a habit is a way to sharpen your ability to read and understand things. It's also one of the key things if you want to build a great vocabulary.
If you can be more effective and efficient in reading, it would help you in your studies as well. As an example when you have to read through long research papers or articles that might take a long time otherwise you will be able to do faster if you are a good reader. Reading can also be an alternative for our social media time where we download others' problems in to our mind as said by Mark Manson in one of his famous books.
What makes it easier to build this habit is to start with something you love to read or something you want to learn and then slowly progress from that point onwards. Whether you select an eBook or printed book is up to you. I always prefer a printed one because of the pleasant smell and the feeling of pages that makes it more enjoyable.
Note about alternatives...
Thinking about the time that takes to create a 15 minutes long YouTube video, how long does it take to write a best selling book? Sometimes it might take 15-20 years of experience to write a great book like that. Therefore usually books bring more credibility and more valuable facts than a short video in my perspective. Audiobooks in the other hand are more fast paced therefore they are more suitable as a quick getaway for busy people. But how much effective will it be in applying the teachings in the book? How much of the plot will you remember in the story? Reading a book will give you more time to digest, imagine and apply what's taught in the book most of the time.
Does Reading Completes a man?
This is a proverb that has been there for centuries. Reading can give you self-satisfaction and happiness. Happiness is our prime profit as said by Lord Buddha. Also reading gives you an abundance of knowledge. Knowledge is potential power and if you use it wisely it will bring you wonders. Therefore I think that to find an exact answer for this question one should explore this themselves and experience the impact on their lives. I have seen how people transform and I have also experinced this myself.
It's not a bed of roses, is it?
Every action always has its good and bad. Reading printed books have too. Even though reading books is a good thing sometimes reading printed books can be inconvenient. We might not be able to carry books all the time with us and with the small houses in these days there might not be enough storage to store such books after reading for around 5 years of time. Reading printed books also needs a light source to read ;) Purchasing printed books can also be costly but if you can borrow from your friends it would be way cheaper. Also reading is a slow process that you might definitely get bored in the middle. Compared to reading an eBook you might not be able to increase the font size and jump between the chapter in a snap. At last did you know that high percentage of deforestation occur due to making printed papers? So with the billions of books printed each day it contributes more for deforestation than we ever think! So this printed books eBooks debate has been continued so far. It's always comes down to your personal preference.
Summary
Here, I wanted to share my journey and experience so far. Reading is a vital skill that helps a person in various ways. There are lots of options in what to read and methods of reading. You can apply some of the things that I have shared in this article and let me know how it goes. Everyone's journey is unique. If you are a person like me now, this article might help you to change your perspective on reading. Let me know your comments and thoughts on this. If you have any insights to support my thoughts please leave your comments below or any healthy criticism is also welcome.
Happy time reading books!!! See you from the next article.